Channel Partner Training Software: 5 Features to Consider
May 02nd, 2023
Channel partners are more likely to sell products when they are familiar with them and recognize their value. So to increase mindshare, you need to make it really easy for your channel partners to learn about your products as part of their daily workflow. The right channel partner training software can help with this.
In our 20+ years of experience working with companies like Nike, AstraZeneca, and Colonial Life, we've found you there are five features channel partner training software needs to help you increase mindshare:
In this article, we'll show you how Brainshark — our sales enablement solution and a Bigtincan company — delivers these five features in detail.
Book a Brainshark demo to see how our platform can help you create and scale trainings across your channel partner network.
Feature 1: CRM integrations and automatic SCORM compliance, so channel partners have your training materials inside their LMS or CRM
The easier it is for channel partners to access your training, the more likely they are to actually complete it. This goes for all types of partners — resellers, distributors, franchisees, service providers, etc.
That's why the ability to let partners access your trainings in their preferred environment is crucial for onboarding them fast and increasing mindshare.
With Brainshark: 
All trainings you create are SCORM by default, meaning channel partners can upload them directly to the learning management system (LMS) they're using.
Channel partners can integrate our platform with popular CRMs like Salesforce, HubSpot, or Veeva, thanks to Brainshark's Integration Engine. 
These two functionalities ensure that your channel partners' employees don't have to jump between different tools.
For example, say you want more insurance agencies or independent agents to sell your insurance products instead of your competitors'. When agents are on a sales call, they may find it difficult to answer questions about your products if they have to search for the information in different tools. In contrast, when Brainshark is integrated with their CRM, agents can simply click on a tab of the CRM they already have open and quickly answer the customer's questions.
The same goes for retail employees who use an LMS to access product tutorials. Getting them to learn about your products is much easier when they see your trainings each time they log into their learning platform, instead of having to use another tool.
Now, besides meeting your channel partners where they're at in terms of software, you also need to consider the devices they're using.
Feature 2: Online or offline access on nearly any device, so trainings can be accessed anytime, anywhere
Lots of traditional LMS are designed only for desktop or laptop devices. Usually, they can still be accessed on mobile devices via a web browser, but since they're not designed for mobile, their content is often formatted incorrectly.
Additionally, salespeople and other employees that work on the floor typically have a mobile device with them during the day. If they can't open your training on it (or have difficulty accessing it), they may decide to skip it or leave it for later and end up forgetting about it.
In contrast, Brainshark is available online or offline on any mobile device, as well as on desktop and laptop computers. 
With Brainshark, reps can use our native iOS orAndroid apps, which offer much better performance and user experience than an app built primarily for desktop or laptop devices. And since reps can access Brainshark online or offline, they can answer questions and solve issues quickly, which results in higher customer satisfaction.
Feature 3: Easy content authoring to create personalized, engaging trainings for each channel partner 
Many traditional LMSs require advanced technical skills to create online training content. As a result, you usually have to rely on a more technical team to create the content for you, which can cause week- or month-long delays.
When promotions and products are constantly changing, such waiting periods aren't an option, as tons of selling opportunities will be missed by the time updated content is created. Additionally, channel partners will be working with outdated information until the new material is available.
Most teams find they need to constantly modify training materials so that each partner only gets information that's relevant to them. Otherwise, partners have to go through use cases or product features that don't concern their clients. This often results in learners skipping some of the trainings, missing important details, and not retaining most of the information.
With Brainshark's easy content authoring tool, anyone can create interactive trainings and quickly tailor them to each partner's needs, without needing any advanced technical skills. 
All you have to do is upload a PowerPoint, Slide, or another document. Then, you can add various interactive elements like hyperlinks, quizzes, voiceovers, and much more with easy-to-use drop-down menus, drag-and-drop actions, etc.
You can also package several of your trainings together and give channel partners certificates upon completion, so they have an extra incentive to go through materials. We have pre-made certificate templates, but you can also create a custom certificate from a PowerPoint slide.
Besides creating new trainings, our easy content authoring tool also lets you quickly personalize trainings for channel partners. 
For example, say you've created a training curriculum for your internal sales team that covers everything they need to know about a product — features, pricing, competitive products, etc. A channel partner's reps might also need most of that information but with a few slight tweaks and additions. For instance, some might need a bit more technical hands-on product training, so they can confidently demonstrate features to new customers.
With Brainshark, you can copy the training that your internal reps use and easily add (or remove) information for each channel partner, so they see only content that's relevant to them. 
Feature 4: Reporting and analytics to make informed decisions about improving training engagement and results
Even the most detailed channel partner training program won't produce great results if learners aren't taking the necessary courses or if the training materials aren't engaging enough. That's why your channel partner training solution should help you answer questions like:
How many training activities are each partner's employees completing?
Are they engaging with the training you've provided?
Are they taking the quizzes you've created? And how are they scoring on them?
Having this information lets you make an accurate assessment of your training's quality. This can show you which training materials aren't engaging enough and find ways to optimize the learning experience.
Brainshark's readiness scorecards show the training completion rates for all of your channel partners' employees and teams in one easy-to-read report. 
As you can see in the screenshot below, readiness scorecards also show information about employees' training KPIs, like completed courses, quiz scores, and more.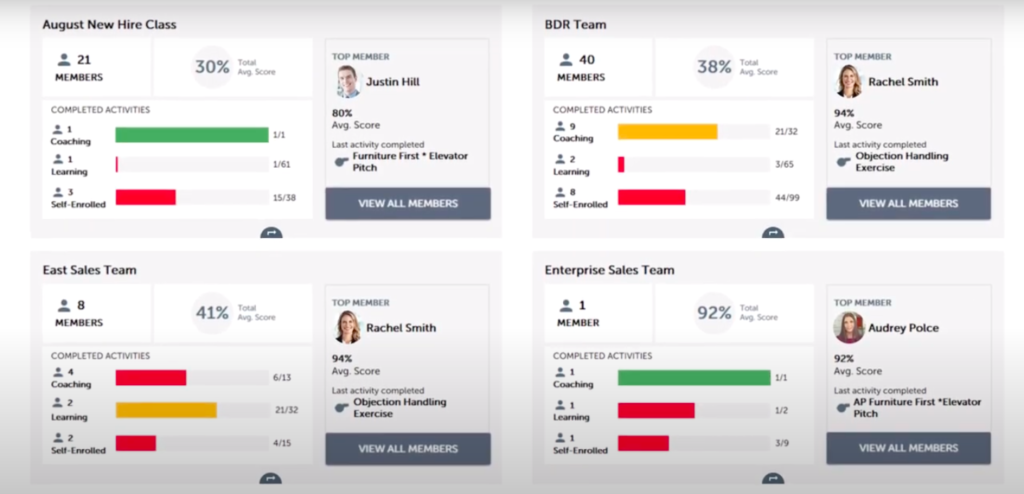 Additionally, you can see how long learners engaged with a specific course, as well as how they navigated through your training content.
Let's say you've made a deal with a new channel partner to sell your product in their retail locations. To ensure that everything goes according to plan, the partner has promised that reps tasked with selling the product will complete all product courses by a certain date.
With readiness scorecards, you can track each rep's progress to see if they've completed all the necessary courses, how they scored on quizzes, where they struggled, and much more. Based on that information, you may decide to rework some of your materials and assign additional product knowledge courses or even general sales training before partners start pitching your products.
Feature 5: Quizzes and coaching to ensure channel partners understand and can articulate your products' benefits
In some cases, it's not enough to provide channel partners with access to your training materials and let them handle everything else.
Let's go back to our example of starting with a new channel partner. As part of your training strategy for the first few months, you may decide to gauge if the new partner is taking your trainings seriously and remembering the information or just skimming through it, without paying much attention.
Or if you're introducing a new, more complicated product to your partners' stores, you may want reps to practice the pitch before they start selling it to clients. That way, you can be certain they understand the product and can articulate its differentiators.
Brainshark supports both use cases with:
Customizable quizzes that show you how well your channel partners' employees retain the training.
Virtual coaching assignments that let you gauge if reps can sell your products to customers.
Customizable quizzes
A few of the different quiz features and settings you can customize in Brainshark include:
Completion criteria. You can adjust how many questions a trainee has to answer correctly to pass a specific assignment. For example, say you have a course with information that's crucial to anyone selling your products. In that case, you can add a quiz at the end and set up the completion criteria, so that only trainees who answered a specific percentage of questions correctly pass (e.g., over 90%).
Branched questions. Branched questions allow you to decide what learners see next based on their answer to a question. For example, if they select a wrong answer, they can be automatically assigned a new training or get sent back to the part of your training where that topic is covered.
Locked quiz navigation. When the quiz navigation is locked, viewers can only move forward, without reverting back to previous slides or videos. This is great for more formal assessments, where you want to ensure that each person can answer each question once and only move through the course in a linear fashion.
For more details on the different quiz settings, as well as other Brainshark features needed to create a successful training program, check out our article building a comprehensive sales elearning program.
Virtual coaching assignments 
Some partner enablement solutions allow you to coach sales reps on how they should sell your product. However, most tools leave the assessment of reps' communication and sales skills entirely up to you. As a result, the process of evaluating reps' readiness to sell can become incredibly time-consuming, especially as you start working with more channel partners.
In contrast, Brainshark's coaching activities show you how reps would present your product to clients and give you an automated assessment of their sales pitch. This assessment contains insights into reps' communication and sales skills, so you can quickly pinpoint where they're struggling.
Here's how this process works:
First, you create an assignment for channel partner employees. For example, the assignment can be something like "A family with two kids walks into the store, showing interest in our product. Record a 2-minute video of yourself showing how you would pitch the product to the family".
Once the assignment is ready, all reps that will be selling the product can record a video from within the Brainshark platform or mobile apps. Alternatively, they can upload an external recording they took with their phone (or another recording device).
After their recordings are submitted, they are then analyzed by our AI-powered machine analysis that provides valuable insights like the number of filler words reps used, their level of speech, the emotions their facial expressions portrayed, and more.
In short, AI-powered machine analysis makes it much faster and easier to evaluate each rep's readiness to sell your product. This helps you prioritize the time you spend on giving feedback and ensure it's going where it's most needed.
As an added bonus, reps get a chance to pitch your product in a safe environment, which boosts their confidence.
Lastly, channel partners can submit their recordings for peer feedback before sending it to the person making the final assessment. For example, store reps can send their recording to their store manager for feedback before sending it to the person in charge of managing the channel partner relationship who makes the final evaluation.
If you feel that Brainshark is the right fit for your needs, book a free demo with our team.