Virtual sales training: how to choose the right program for your team
May 02nd, 2022
Virtual sales training is any synchronous or asynchronous learning provided online or via a digitalized experience. This means training can be delivered across multiple locations simultaneously and, in the case of asynchronous learning, at any time that's convenient for the trainee.
Additional benefits of virtual sales training include:
The ability to quickly refer back to a specific training as a refresher before sales calls or to answer specific customer questions.
The ability to improve engagement and retention by providing shorter, bite-sized training sessions.
There are several different things to consider when building a virtual sales training program, so it can be difficult to know where to start.
In the 20+ years we've spent working with companies like Zoom, BTG, and Samsung, we've found the decision to buy a pre-made program or build one yourself is a crucial first step. 
This decision has implications for the entire sales training process — from adding new training materials to evaluating the training programs' ROI.
In this post, we'll walk through each piece of the virtual sales training process and discuss the pros and cons of building your own program vs. buying one. We'll also cover how easy it is to create, manage, and evaluate your training program using Brainshark — our sales enablement solution and a Bigtincan company.
In this post, we cover:
If you're ready to build an effective virtual sales training program, schedule a Brainshark demo with our team.
Creating new training materials for your virtual training program
When adding new content to your training program, both buying a program and building your own will cost you time and resources. However, the cost becomes irrelevant if you can't get training on the topics your team needs.
Pre-made virtual training programs will only cover topics like objection handling, popular sales methodologies, LinkedIn prospecting, shortening sales cycles, and other general topics. You won't be able to buy a training program about your product's features or company policies.
These company-specific topics are arguably the most important part of a comprehensive sales training program. It's fine if sales reps know how to handle general objections, but what enables them to close deals is knowing how to handle the specific objections customers have about your product.
To cover these company-specific topics, you'll still have to hold in-person meetings or build your own training program. However, many sales teams hesitate to build their own virtual sales training because most content creation tools have a steep learning curve and require highly technical skills.
Brainshark solves this issue by letting anyone create engaging, professional content in less than 10 minutes. 
Here's how it works.
Let anyone easily create training materials, without any advanced technical skills
The process of creating training content with Brainshark is simple — you upload a PowerPoint, Slide, or other document that your teams already have. Then, you add various interactive elements such as hyperlinks, branched pathways, and much more. Finally, you ​can record your screen along with video or audio to give the presentation a personalized experience.
Once uploaded, Brainshark trainings are available online and offline and on nearly any device.
Lastly, all courses in Brainshark are automatically SCORM compliant. You can access them on our platform or upload the content to an LMS.
Ensuring reps stay engaged throughout their training and retain the information
Creating the training material is only the first step. Once you have the material, you'll want to make sure it's presented in a way that will keep reps engaged and help them retain the information. However, as Gartner found, 87% of B2B reps forget the information they learn in a week.
When it comes to virtual learning, we've found that the decision to build or buy a program significantly impacts engagement and retention.
Pre-made programs are usually broader and more generic in order to appeal to a larger audience. As a result, at least some of the training won't be relevant to your reps. Reps quickly pick up on this and often find it difficult to stay focused. And, if the reps don't know the presenter personally, they're less likely to trust and apply the advice.
Another big problem with most pre-packaged virtual training material is that they're too long — usually between 30 and 90 minutes. Reps tend to quickly forget most of the information in such long-form content. Additionally, it's hard for them to find specific details when they need them, as they have to sort through long videos or presentations.
For example, a rep might be in an in-person sales meeting, where the client asks if a new feature is compatible with their updated tech stack. This might be a dealbreaker, so it's crucial for the rep to quickly find that information, which is hard to do if they have to sift through long training materials. As a result, the rep might end up wasting their and the clients' time looking for details on a feature that won't work for the client.
Another big issue with pre-made programs is that they can feel generic and extraneous. Reps don't know who's presenting the information and whether they're qualified to teach other salespeople. This makes it hard for reps to engage with the training, let alone trust and remember the advice in it.
Building your own program with Brainsharkallows you to create short, just-in-time learning material and easily add voice-overs to keep reps engaged.
Create short, just-in-time learning to help reps retain information and brush up on important details before sales calls
With Brainshark, you can easily create and maintain various short-form training materials (called "microlearning" or "just-in-time training"), which keep reps engaged and help them retain information.
For example, you can take an hour-long course on your new product and break it down into a collection of five-minute videos. These can cover topics like:
Current product features and release roadmap.
Pricing objections and how to overcome them.
Potential buyers and the benefit of the product for their business.
For reps, it's much easier to fit five-minute videos into their packed schedules and actually remember the information. As we said, microlearning is also much more practical since reps can quickly find what they need right before or during a sales call.
Add voice-overs to keep reps engaged and increase credibility
With Brainshark, sales professionals and other SMEs can easily add a voice-over to training material in a few minutes. Getting respected SMEs to narrate trainings ensures reps actually trust the person delivering the content and helps them to engage with your program.
You can create an audio recording directly within Brainshark or upload a separate file. Then, you can sync the audio file to the presentation, add notes, manage volume, and more.
Assessing whether or not reps are ready to sell
In theory, after going through the necessary content, reps should be able to apply what they've learned to real-life scenarios. In practice, that's not always the case. That's why it's vital to check if reps absorbed the training and assess their readiness to sell before they start doing client calls.
Some pre-made programs include quizzes to help with this task. However, these quizzes are often pre-made, so you can't customize their questions or adjust different settings, based on how formal or informal you want the assessment to be.
For example, you may want a sales certification course on a topic like compliance to be more comprehensive and only allow reps to start and go through in a linear fashion. Alternatively, you may want a more dynamic assessment on topics like product features, where reps can retake a quiz and re-open courses to refer back to specific details. With pre-made programs, you usually can't do such customizations to tailor each assessment to your specific needs.
Additionally, pre-made programs typically don't offer a way to see if reps can put what they've learned into action. As a result, you can't verify reps' readiness to sell and identify their weak spots before they jump into real sales conversations.
If you build your program with Brainshark, you can create a final quiz to test how well reps understand key concepts and retain information, as well as customize the assessment based on your needs. But, more importantly, Brainshark's coaching activities also allow:
Sales managers to see how reps would do in a real-life scenario.
Reps to apply what they've learned and boost their confidence by practicing their skills.
Create a final quiz to understand how well reps retain the information
Creating a quiz or exam to test how well learners absorbed the training is usually the final step in creating a sales elearning program —  before you can start evaluating if their field-ready.
Brainshark lets you customize quizzes by choosing different question settings, locking the quiz navigation, and setting the completion criteria.
Question settings
Under "Question Settings", you can limit the number of attempts reps can make on a question. Additionally, you can also limit how many times they can re-open the course.
If you choose the "absolute tries" setting, each rep will only be able to open the course once and answer each question once. However, even with this setting enabled, you can still re-enroll reps in the course if they need to retake it.
You can also choose to have the questions displayed in a random order for each user and each time it's opened by a given user.
When an answer is selected, you can select whether a "Correct" or "Incorrect" message is shown to the rep. This message can be further customized by adding more detail as to why a response is correct or incorrect.
Locked navigation
When you enable the "locked navigation" feature, reps can only move forward in the quiz, without being reverted back to a previous point. Conversely, when this feature is disabled, reps can move around the course freely.
Completion criteria
Brainshark provides three main options for determining when a course has been completed:
Percent of course content that was viewed.
Percent of course where the audio was turned on.
Percent of questions that were answered correctly.
Each of these settings can be set to a percent between 0 to 100. Courses are automatically marked as complete when the given percent for all three has been achieved. If even one of the criteria isn't met, the course will be marked as incomplete.
Let reps practice their virtual selling skills and assess their readiness to sell with AI-powered coaching
Once you know how well reps retained the information, it's time to see whether they can actually apply what they've learned in a sales call.
Brainshark's sales coaching activities allow you to assess how well reps would do in a real-life scenario while giving them a chance to practice their skills.
Here's how:
You start by creating a role-playing assignment for reps, which can be something like "Record a 2-minute video in which you upsell the client on a newly released module for our product." Then, reps can record their answer from within the Brainshark platform or upload a recording they took with their phone.
On their own, these assignments and recordings are a great way of gauging reps' readiness to sell. However, Brainshark takes things further with our machine analysis and scoring. Our AI-powered engine automatically analyzes each recording submitted by reps and provides insights like:
The filler words used by reps.
Their facial expressions and the emotions they portray.
The clarity of their message based on the grade-level of speech they used.
As a result, sales trainers and managers can save a lot of time, as they don't have to manually count filler words or try to determine the message's emotional tone and complexity. Without this extra manual work, managers can spend more time focusing on the content of the pitch.
Coaching activities also provide two other huge benefits to reps.
First, reps can share the recording with their colleagues for feedback, before submitting a final version to their manager. This is a great way to encourage peer learning and knowledge sharing.
Secondly, they get a chance to practice their new skills in the virtual environment in which most sales processes take place today. As a result, they're more refined and confident when it comes time to do real, virtual client calls.
Tracking training progress and evaluating your program's ROI
Creating training materials and evaluating reps' readiness to sell is only half the battle. To ensure your program is a success, you also need a way to track each rep's training progress and how it impacts their sales performance.
As we said, some pre-made training programs allow you to track things like course completions and quiz answers. However, there's no way to see whether the training actually contributes to the company's bottom line — created opportunities, closed deals, win rates, etc. As a result, sales leaders can't really determine the program's ROI without manual, time-consuming calculations.
Brainshark's readiness scorecards, with our Salesforce integration, let you track individual and team training progress, alongside sales KPIs like closed deals and created opportunities.
Track training progress and see its' impact on real-world performance with readiness scorecards
Brainshark's readiness scorecards show you individual and team training completion rates and scores in one report.
This lets you easily compare reps' training progress. As you can see in the screenshot below, readiness scorecards can show you how many activities the reps have completed, their average scores, and other details in one convenient place.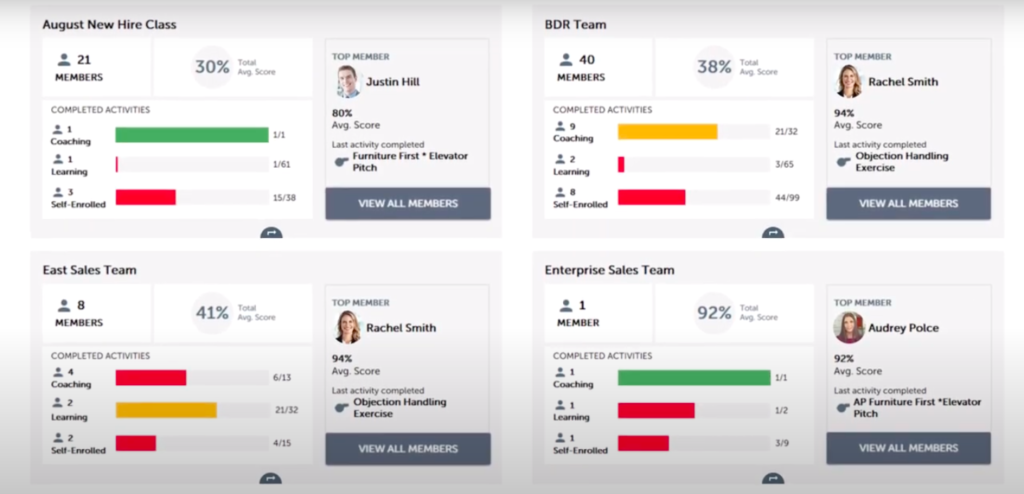 With our Salesforce integration (or by integrating your CRM), Brainshark's readiness scorecards can also show you this training data right alongside each rep's sales KPIs. 
Having all of this information in one place allows you to easily compare reps' training progress and performance at a glance. For example, you would be able to see that most reps increase closed deals by 5% after taking a particular course on how to upsell clients on bonus features.
Readiness scorecards let you gauge your program's impact on KPIs like closed deals and win rate, which is the key to determining the ROI of your training program.
If Brainshark feels like the right fit for your sales organization, schedule a demo with our team.